Discover more from Obvious Bicycle
Thoughts on literature, tech, TV, music, Indian-ness, and everything else.
Index
---
1. Intro (or: Now What the Hell is This?)
This is a list of all the different devices, tools, websites, apps, and software I use regularly.
I'm noting this down because:
a) I'm bored It'll be a fun time capsule in the future of how I once used tech, since products and trends are constantly changing.
b) I'm crazy Someone reading this might find something useful in here ("How did I not know about this <app / website / browser extension> before?"), or might suggest something useful to me.
c) I have writer's block and am out of ideas so here goes absolutely nothing What's normal for one person is absurd for another. I wonder how much of the way I use my computer is similar to and/or different from other people.
d) Nobody talks about this! I'm curious about other people's digital setups and want to see those, so here's mine. (Okay, this one was sincerely true.)
Links provided for every product mentioned. Let's goooooo!
---
2. Devices
I only own three devices - a phone, a laptop, and a Kindle.
---
2.1. Kindle
My Kindle is the most basic-ass version, whatever that's called. It doesn't even have back-lighting. I bought it more than five years ago for around ₹5,000, have read countless books on it, and the device still works (mostly) well. It's one of the best purchases I've made.
---
2.2. Phone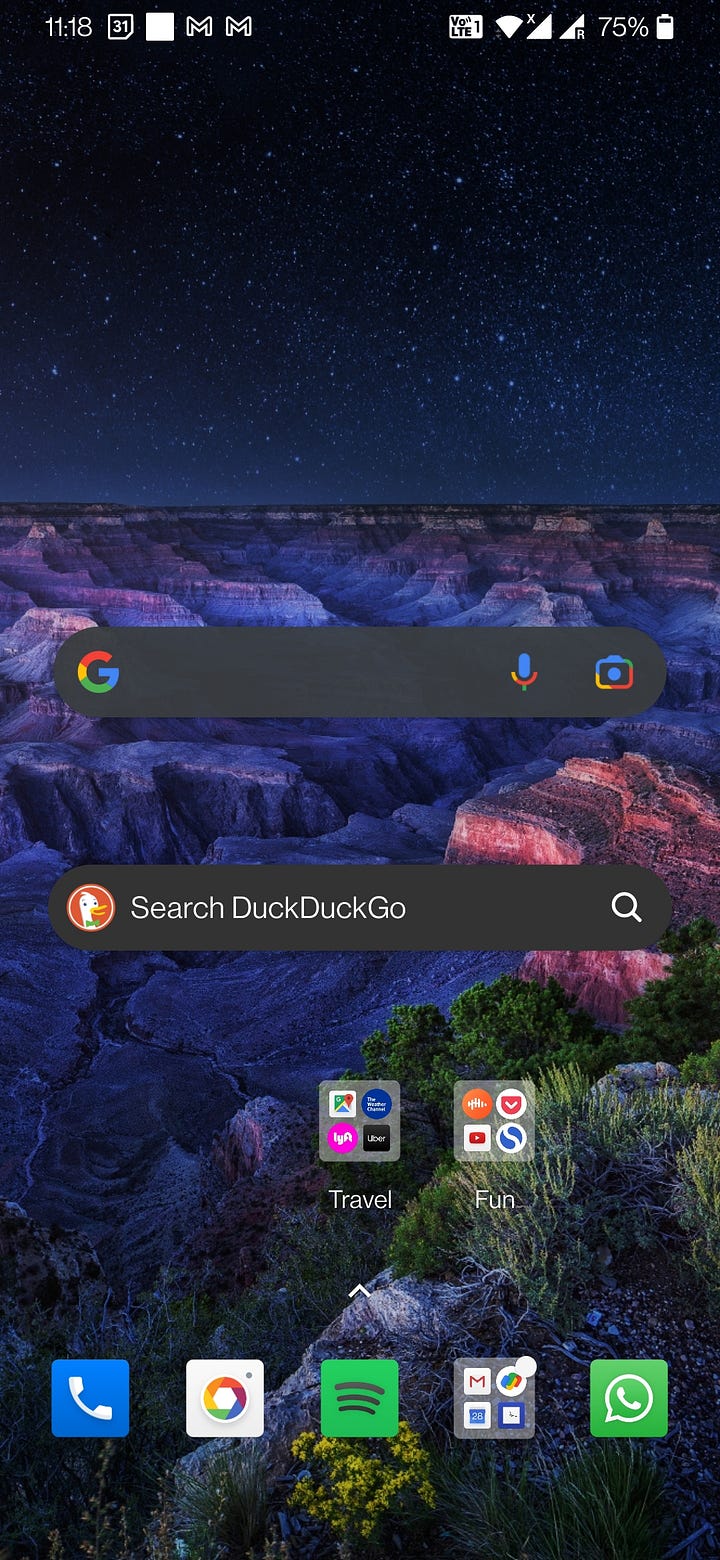 I use a One Plus 6T running on Android 11. It's great, though the 6T is no longer sold.
But what's a smartphone if not the apps in it? Apart from essentials like Phone, Camera, Clock, etc., I've divided all the apps on my phone into tiers. I'm only including stuff I regularly use - sorry, Airbnb.
An asterisk (*) indicates that I pay for the app or for its services. I've elaborated on paid stuff in section 3 below.
—
2.2.1 Tier One Apps
Absolute must-haves for me. My phone is useless without these.
—
2.2.2 Tier Two Apps
These are apps I might not use much but absolutely need on my phone, either because there's no website alternative or there is but it doesn't make sense to use one. All of these are more about utility and less about fun.
—
2.2.3 Tier Three Apps
These are apps I use almost daily, sometimes even more than the Tier Two ones, but a lot of them provide a better experience on their web version and I thus would rather use from my laptop. I really like these but don't need them on my phone. Most are on my home screen though.
—
2.2.3.1 Tier Three - Fun
—
2.2.3.2 Tier Three - Utilities
—
2.2.4 Tier Four Apps
Apps I don't open as frequently as the ones above but still use at least once a month.
—
2.2.5 Games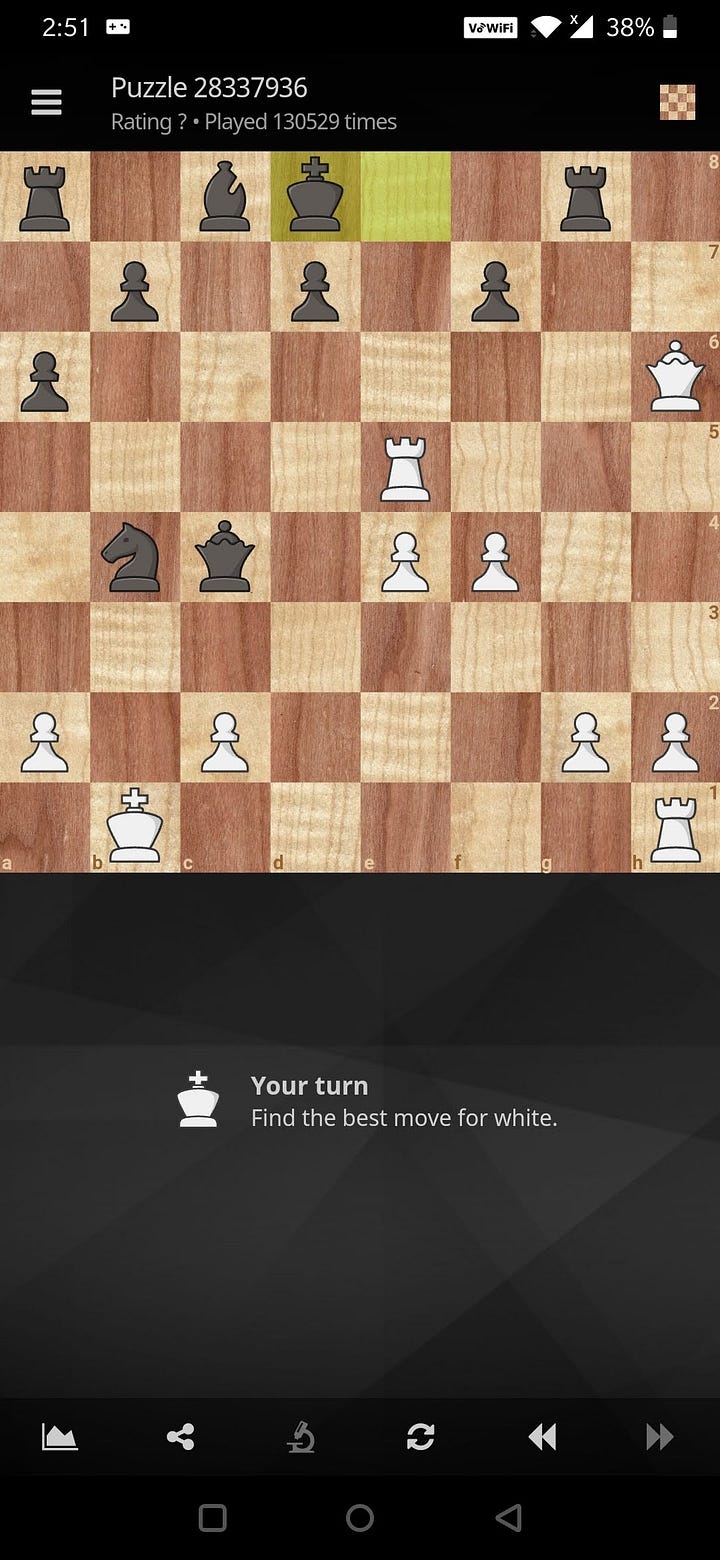 I'm not much of a phone gamer. In the last few years I haven't played any mobile games apart from these:
---
---
2.3 Laptop
I use a Dell XPS 15 with Windows 11.
—
2.3.1 Physical Setup
I use a wired mouse and use one external monitor to extend my display. I mostly use wireless OnePlus Buds Z earphones.
—
2.3.2 Operating System
I've used Windows all my life and 11 works great.
I have an SSD storage of 500GB but it's barely enough now.
I don't think I explicitly use a lot of Windows features or products because most of my work happens through a browser.
—
2.3.3 Browsers
I use both Chrome and Firefox, 75-25.
—
2.3.3.1 Chrome
Most of my work and school stuff I do in Chrome. It's more of a "get stuff done" browser while Firefox is more of a "chill out" browser.
I'd recommend making different profiles in Chrome for different uses - each profile is a separate instance of the browser with its own history, bookmarks, and settings. I've made three:
The first is my Work profile (for lack of a better word) where I've logged in using my main Gmail account. I do most of my tasks - including writing this blog - here.

The second is my University profile where I've logged in using my university email, which is where I do all my school work.

The third is my Lunch profile where I've logged in to and bookmarked streaming services like Netflix and HBO. Whenever I want to watch something I'll open this.
—
2.3.3.2 Firefox
I've never done anything remotely productive through a Firefox window. This one's for Twitter, HN, Reddit, online gaming, and checking World Cup scores. (It's weird that I use YouTube through Chrome itself though, because even if it fits the Firefox vibe it's still a Google login. Honestly this whole browser-usage setup is not even close to optimal, but it is what it is. Improvement suggestions welcome.)
—
2.3.3.3 Browser Extensions
I use the same set of extensions on both browsers.
—
2.3.3.4 Websites
Here are some websites - apart from the names mentioned above - that are super useful to me on an almost-daily basis.
Like I said in 2.2.3.2, Beeminder is a website that lets you record and track quantifiable goals (eg. "visit the gym 4 times a week" / "code for 2 hours every day"), and makes you pay a predefined fine if you don't meet your deadlines. It's really well made, automatable, customizable, and the only way a chronic procrastinator like me can be productive.

When2Meet - A fast, minimalist, and effective scheduling app to find common meeting times with other people. Needs no login.

Thesaurus - I use this frequently and incessantly, and find it to be convenient, effective, handy, helpful, practical, pragmatic, and useful.

Combined Search - Adding a tool to this list that I myself made could be considered as cheeky self-promotion, but it counts because I need and use it regularly, which is why I built it in the first place.

Substack - The website you're reading this on. They've made it easier than ever to start a blog, and that too for free. You (yes, you) really should make one. Here's why.
—
2.3.4 Other Desktop Apps
I always prefer to install the Windows desktop version of any program even if it can be used through a browser.
—
2.3.4.1 Tier One
My go-to note writing app and official Favourite Product Ever. Free, slick, endlessly customizable, feature rich, extremely well engineered, and frankly indispensable. It's like using an IDE for writing.

Since your files in Obsidian are a) written in markdown and b) stored on your local drive and not the cloud, the app is future-proof. If Obsidian were to stop existing tomorrow, your files would be untouched and completely usable. You have full control of your data.

Spotify* - Self-explanatory.

VLC media player - The goto app to play any kind of video (though Movies & TV is good too). Free. Has intuitive shortcuts and can play any video file format known to humankind. GOATed.
—
2.3.4.2 Tier Two
Trello is to-do list app I started using just a couple of months back. I used to use the whiteboard in my room but Trello is better as I can refer and edit my tasks anywhere (I used to take photos of my whiteboard if I was going out), as well as create automated rules to add tasks. (Eg. "On the 1st of every month, backup Obsidian files.")

Anki - A flashcard app for remembering things. A potentially life changing piece of software with a bit of a learning curve - see resources here, here, and here. I even recommended it in my Best of 2021 list but my recent usage has admittedly dropped.

IntelliJ - The best IDE. Was introduced to this at work and haven't looked back since.

Zoom* - Self-explanatory. Google Meet is also good.

WhatsApp - Useful to have the Windows desktop app for file syncing and downloads. And typing from a laptop is so much faster than from a phone.

Snipping Tool (built-in with Windows) - The default app to take screenshots. Good.

Notepad (built-in with Windows) - Simple yet indispensable. One of the OG Windows products for a reason.
—
2.3.4.3 Tier Three
Discord - I have an irrational hatred for Discord that I haven't bothered articulating even to myself. The only reason I use it is because I'm part of some cool servers.

OBS Studio - A free app to both record and stream video. I'll bet a hundred bucks that your favourite YouTuber / Twitch-er uses this. Densely packed with features and yet easy to learn.

Steam - Steam is a video game distributor. Their Windows client is immaculate. Steam sales are the only sales where the discount is massive. More on games below.
—
2.3.5 Games
My relationship with games is similar to books: I get dopamine hits just from purchasing them and buy way more than I consume. Every time there's a Steam sale I splurge but still haven't played most of what I've bought.
This is what my (mostly un-played) Steam library looks like:
I used to game a lot more than I do now. I'm writing a separate post about my favourite video games soon.
---
3. Stuff I Pay For
Most of the software products I pay for have been mentioned somewhere above already (with the asterisk), but I'm adding 'em here again.
—
3.1 Recurring Payments
Things I pay for either monthly or annually.
—
3.1.1 Fun Stuff
—
3.1.2 Utilities
—
3.2 Donations
I don't have recurring donations setup anywhere but I did donate a few bucks to these services one time or another because I like and use them so much.
---
4. Final Thoughts
Noting all this stuff down made me become explicitly aware of certain things, so I guess it wasn't a complete waste of time.
First off, if given an option I'd rather do almost any task, fun or not, on my laptop rather than my phone.
Second, I depend on Google way too much. All my contacts, photos, and emails are tied to my Gmail account. If the company were to go belly up tomorrow, or my account were to get hacked, my life would be in shambles. (Though I will say the former scenario is worse than the latter. I can't image what any hacker would do with the twenty seven shirtless selfies on my Photos.)
(Also in theory, I understand that putting all my data in one place is a recipe for disaster but I use an Android phone and they made it very easy to do so, so I don't see myself switching to ProtonMail or LibreOffice or whatever anytime soon. Like I said, they got me.)
Third, I still don't have an exhaustive backup system in place and neither is all my data securely backed up. Something to fix soon.
What else? I've never owned an Apple product and have never felt the "need" for one. That being said I will buy one someday just for kicks.
There's a lot of fantastic PC games I haven't played and want to at least try out.
I'm someone who reuses passwords everywhere and I still can't function without a password manager like LastPass. I genuinely have no idea how people live without one. Storing passwords in the browser itself seems so insecure.
Windows 11 is great. But a friend of mine recently showed me Raycast and I was like, okay, an OS can be so much more intuitive in ways I never thought of.
That being said, everything I've ever learned about Linux has been against my will.
Whenever I use something like Lens or Shazam, I'm reminded of Clarke's third law: Any sufficiently advanced technology is indistinguishable from magic.
Some of my favourite tools that I can't live without are completely free.
The sheer volume of tech I use every single day without giving any of it even a second thought is incredible. I'm glad to be alive in the 21st century.