Discover more from Obvious Bicycle
Thoughts on literature, tech, TV, music, Indian-ness, and everything else.
Siddhesh Recommends - August 2023
The best stuff I've listened to, watched, and read last month.
Siddhesh Recommends is a series in which I share the most memorable stuff I come across each month.
Click any of the titles below for the link.
You can view all previous recommendations here.
---
In Praise of Memorization (article)
"The more information you have muscle memory for, the more you can use to reason about. But you can't draw connections between things you don't know exist, or don't have a good "feel" for. […] In short, you're limited by your lack of understanding of what to look up.

The point is that memorizing data gives you a bank of material to run through when forming and testing a hypothesis. When you rely solely on analysis as a form of knowledge-synthesis, you'll often reach the wrong conclusions simply because you do not have good data to base your deductions on. Of course you can and should research, but you'll be much more accurate much more quickly when you've got the information in your head at hand."  
Has plenty of illustrations and examples that drive home the point. Banger.
---
Some Good Tweets
---
Ethel Cain - American Teenager (song of the month)
---
Paintings by Brett Allen Johnson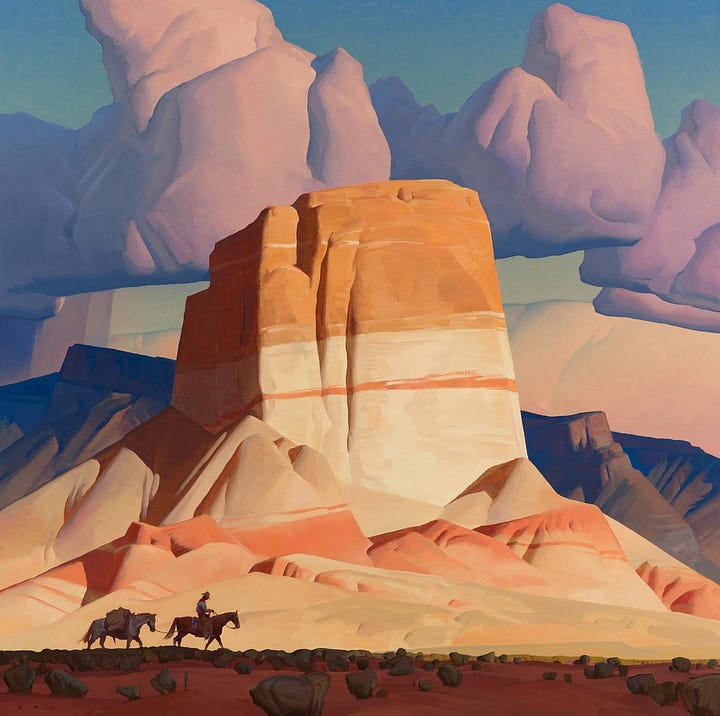 Here's the Tweet I found them through. Here's the official gallery website with all his work.
---
Amazing Photos of Things Worn Down by Time (photos / 1 min. video)
Tiktok failed to load.
Enable 3rd party cookies or use another browser
---
The Haitian Revolution of 1791 as a Rap Song (1 min. video)
This guy makes short rap songs on historical events on his TikTok. Incredible!
---
How Chick-Fil-A Training Gotta Be Like (1 min. video (funny))
---
My Failures as a Software Engineer (2 min. video)
---
Key & Peele - Gideon's Kitchen (3 min. video (funny))
---
Pharrell Gives Music Feedback (5 min. video)
Context: Legendary music producer Pharrell visits a music production class at NYU to critique some students' songs. In this video he listens to a song from a student named Maggie Rogers and is blown away.
This video's fun to watch because it's a meeting of the minds. You can see the exact moment Pharrell realizes that he's listening to something extraordinary.
---
Best Tennis Shots of the Decade 🤯 (10 min. video)
My favourite ones were at 2:55 and 8:07.
---
The Cultural Tutor: From McDonalds to the most famous writer on Twitter (1.2 hour podcast)
The top comment on the video says it best: "This man is so unbelievably based. Wakes up at 4:37 PM, smokes a pack of cigarettes, his only goal is to write 1 thread everyday, and he gets to 1.5 million followers. A true rebel."
Fantastic conversation about writing, ideas, and creativity. This guy scoffs at productivity advice, doesn't have any kind of routine, and yet writes incredible Twitter threads day after day simply because he loves doing it.
---
"The handicap under which most beginning writers struggle is that they don't know how to write."


- P. G. Wodehouse
---
Thanks for reading! Subscribe for free to receive future recommendations.